Online Auction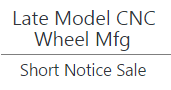 Late Model CNC Wheel Mfg – Short Notice Sale
---
---
Bidding Begins Closing
at 11:00 AM
---
LOCATION:
Closing West Coast Mfg Operation Only
5780 Soestern Ct.
Chino CA

CONTACT INFORMATION:
Toll Free: 888.648.2249 or main@tauberaronsinc.com
All Lots Starting at $5!
Attention Machinery Movers/Riggers!
American Eagle requires the following insurance coverages for all machinery movers, riggers and outside labor: 1. Workers Compensation Insurance 2. General Liability Insurance listing AEWC as an additional insured 3. Umbrella Coverage with a $2M limit 4. Automobile Liability Coverage 5. Waiver of Subrogation in favor of AEWC on General Liability Please bring proof of the above coverages to AEWC the morning of the auction sale or before work commences. Only riggers with the above coverages will be allowed to work on the premises.
MTS Systems mod. Q-Test-6 Tensile Tester, 120 Volts, 1PH, 29 Amps; S/N QTS-194-004

(1992) IMT mod. SF-500-4 Vertical 4th Axis CNC w/ GE Fanuc Series O-TT CNC Controls; S/N 1020/4

(1997) Haas mod. HS-1 Horiz. CNC Machine Center w/ 15hp High Torque, 710 IPM Brushless Servo, 2M Position ATC; S/N 50340

(1996) Haas mod. HS-1 Horiz. CNC Machine Center w/ 15hp High Torque, 710 IPM Brushless Servo, 2M Position ATC; S/N 50189

Goal Valve 1hp Hole Drilling Machine Unit 06

Makino mod. A66 Horiz. CNC Machine Center w/ Makino Professional 3 CNC Controls w/ Microfine Turbo mod. 6589 Chip Conveyor System; S/N MM-0196

(1992) IMT mod. SF-500-4 Vertical 4-Axis CNC Lathe w/ GE Fanuc Series O-TT CNC Controls w/ 2-Position Wheel Chuck; Reference #1019/1

(1992) IMT mod. SF-500-4 Vertical 4-Axis CNC Lathe w/ GE Fanuc Series O-TT CNC Controls w/ 2-Position Wheel Chuck; Reference #1018/3

(1991) IMT mod. SF-500-4 Vertical 4-Axis CNC Lathe w/ GE Fanuc Series O-TT CNC Controls w/ 2-Position Wheel Chuck; Reference #1016/6 (Parts Only)

CPC mod. 1101 Counter Pressure Casting Machine w/ Shuttle Loading Arm; Unit 04 (No Control Screen Monitor)

CPC mod. 1101 Counter Pressure Casting Machine w/ Shuttle Loading Arm; Unit 03

CPC mod. 1101 Counter Pressure Casting Machine w/ Shuttle Loading Arm; Unit 07 (No Control Screen Monitor)

CPC mod. 1101 Counter Pressure Casting Machine w/ Shuttle Loading Arm; Unit 08

CPC mod. 1101 Counter Pressure Casting Machine w/ Shuttle Loading Arm; Unit 09

CPC mod. 1101 Counter Pressure Casting Machine w/ Shuttle Loading Arm; Unit 10

(Lot) Water Chiller System for CPC

Goff mod. 48TB, 48″ Table, 15hp Shot Blast Machine Foundry Duty Type; Unit 03; S/N 13250261

Goff mod. 48TB, 48″ Table, 15hp Shot Blast Machine Foundry Duty Type; Unit 04; S/N n/a

Goff mod. 48TB, 48″ Table, 15hp Shot Blast Machine Foundry Duty Type w/ Side Dust Collector; S/N n/a

Cummins mod. DFHD-4956347, Diesel Generator Internal Combustion 12 Cylinder, Turbo Charged, After Cooled mod. QST30-GS, 1490 BHP Red Diesel, T/Switch Inan Gen Set, 116 Hours, 3PH Prime, 24 Volt Battery, 277/480 Volts, 1503.6 Amps; S/N D010223159